Plate Heat Exchanger Refurbishment Project
Old Plate Heat Exchangers in Cement Plant are refurbished by HESSA VIETNAM Team
DETAIL
Plate Heat Exchanger Refurbishment Project in Vietnam
There are many small and medium size of Industral Plants and Cement Plants in Vietnam, Plate and Frame Heat Exchanger are widely used on the plants for Lube Oil Cooling, Processing Cooling, Heating and various of applications.

However, the Plate Heat Exchanger wear out after some times running in factory conditions, no regular maintanence and service, so the Plate Heat Exchanger usually meet problems in thermal performance decreased, External leakage by gaskets wearing out, and Internal Leakage by plates corrosion.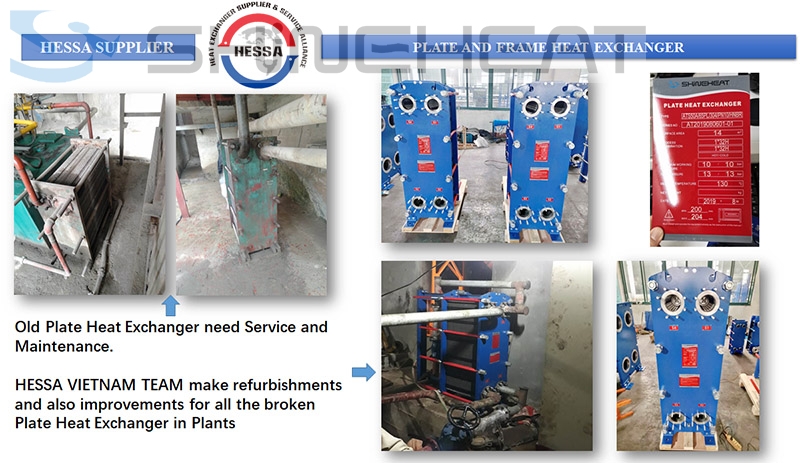 Some old plate heat exchangers' name plates had already gone, so it is very difficult to identify it's technical features. However, HESSA VIETNAM team is specialist in Cement Plant Equipments service, and is capable of understanding their working conditions, by products supporting from HESSA CHINA, we could find replacement or refurbishment solution in quick base.
Some Plate Heat Exchangers are refurbished by new gaskets and plates, some Plate Heat Exchangers are replacement by new upgaded unit of "SHINEHEAT" Plate Heat Exchanger.

HESSA members accomplished a comprehesive service solution for Industrial Heat Transfer Case!