Ever Largest Four-Channel Spiral Plate Heat Exchanger
PED Certified 500m2 Four Channles Spiral Plate Heat Exchanger
DETAIL
Ever Largest Four-Channels Spiral Plate Heat Exchanger-500 m2 Transfer Area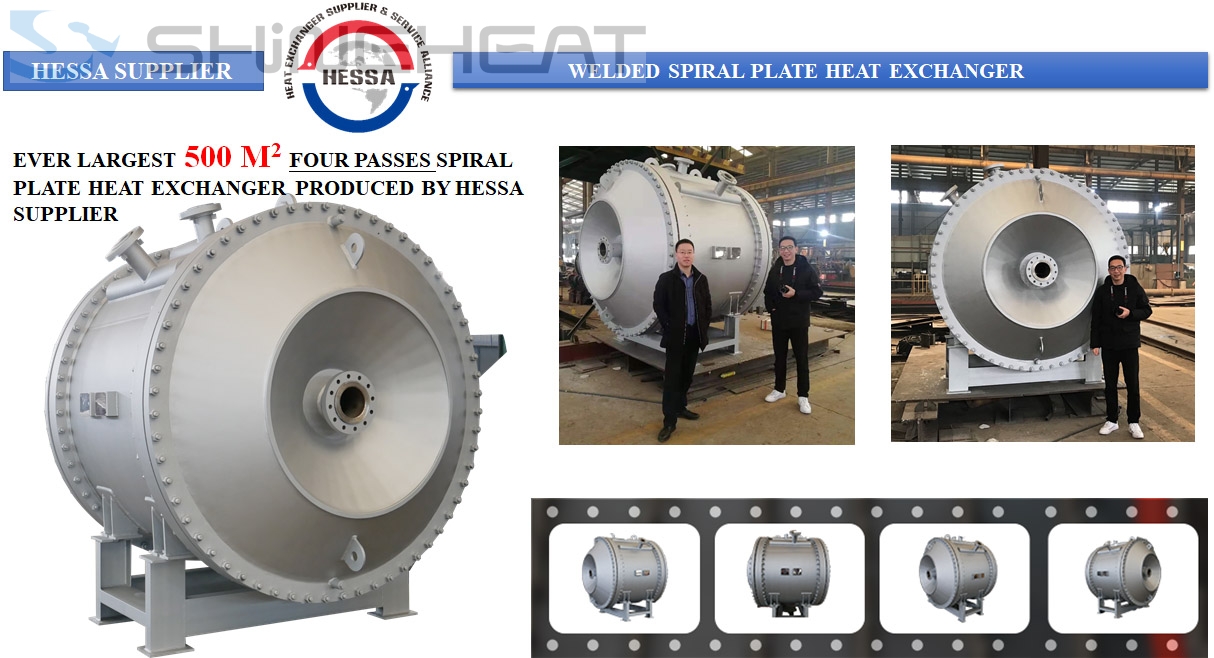 The Job Description
The Spiral plate heat exchanger will carry out special chemical solution of "Monoglycerides and Glycerine" heat exchanger with "Glycerine and Palmstearin".
"Alfa Laval"
provided the original spiral plate heat exchanger, now the old Spiral Plate Heat Exchanger suffer many problems after years' operating, especially for heavy external leakage.
Would "SHINEHEAT" Spiral Plate Heat Exchanger accomplish this duty in satisfactory way?
Thermal Performance
The detail Thermal Calculation Specification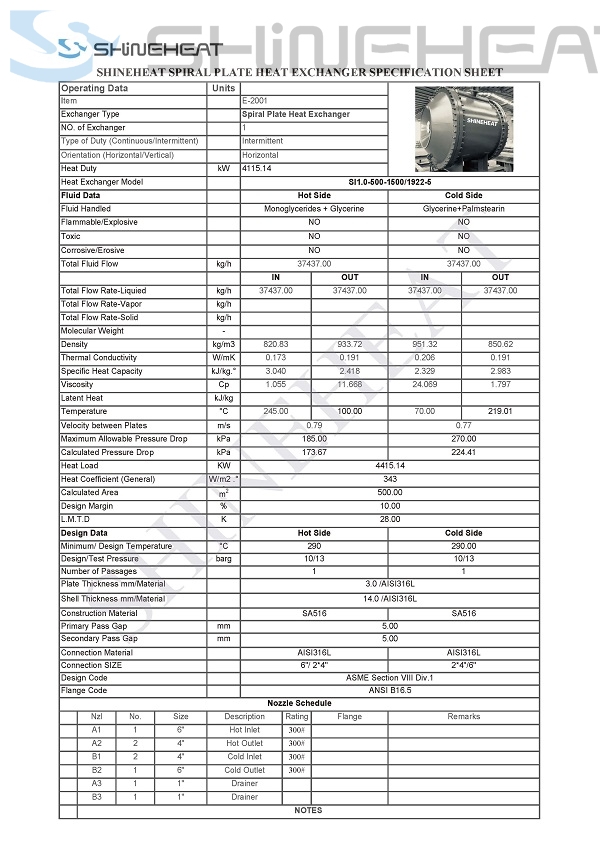 The Highlights for Thermal Design for this Spiral Plate Heat Exchanger
Carrying out Four-Pass (Four Channels) Design,
In view of Job Space Limitation, the horizontal area of workspace could not allow to two spiral plate heat exchangers working in parallel, so we follow original design to work out Four-Pass, that's four channels units. One Hot Inlet with Two Hot Outlets; Two Cold Inlets with One Cold outlet.
Use 3 mm Thickness Spiral plates instead of original 2 mm thickness,
Increase transfer area from 480m2 to 500m2, so it is the ever-largest Four-Pass Spiral Plate Heat Exchanger we made.
PED 2014/68/EU certified design Production by HESSA supplier and SHINEHEAT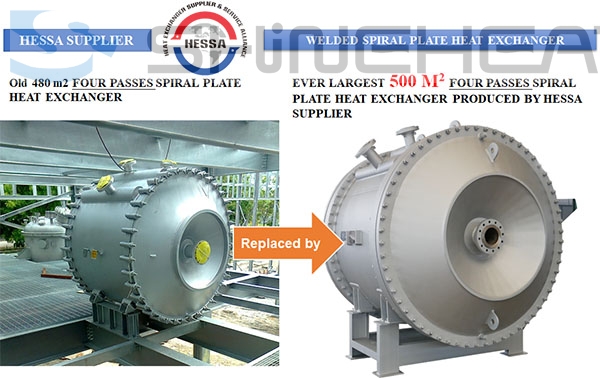 Structure Stress Performance
The Highlights for Structure Design for this Spiral Plate Heat Exchanger
In view of Reliable design, we use "Pass-Through Bolts" to replace original Clamping Type Bolts for more stress request.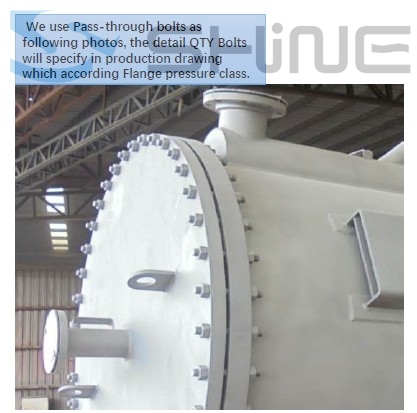 For the Flat Cover and the Shell, we made " Stress Calculation" which is compliance with PED standard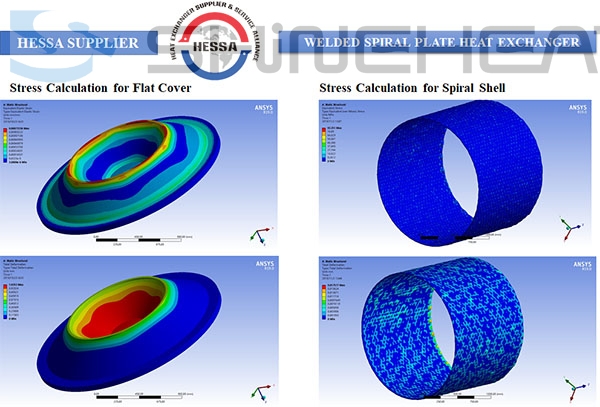 For special sanitary request, we use "Nitrogen Gas" for Hydraulic Test, for the main flange gaskets material, we directly imported from USA for achieving TEADIT brand gasket material.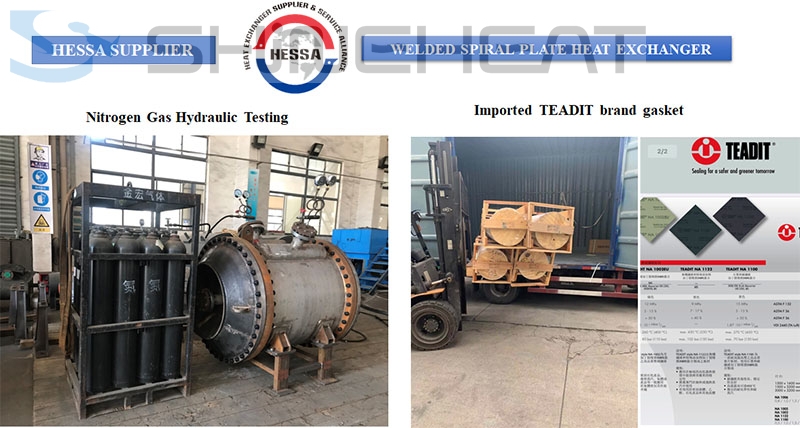 Professional Inspection and Test Plan for Performance Warranty
Differ from regular ITP procedure, we customized more comprehensive ITP for this project.
Welding Sealing Test, we use special "Deionized Water" to fill into one site, another side to fill into "Nitrogen Gas" for "Bubble Testing"
One Side Hydraulic Pressure Test, each side of Spiral Plate Heat Exchanger had been undertaken High Pressure (1.5 time higher than Design Pressure) test by "Deionized Water"
Final High Pressure Gas Test, both side of Spiral Plate Heat Exchanger had been undertaken High Pressure test by "Nitrogen Gas" after assemble.
Finally, the Start-Up and Commissioning running is very successfully.
Now this Spiral plate heat exchanger keep working for five month with good performance. This project reflects professional thermal and structure design and manufacture capacity for Spiral Plate Heat Exchanger, and outstanding quality control capacity by HESSA team.